ART
meets
ENTERTAINMENT
Where in The World does Michael Roy Baldridge entertain?
This is by no means a complete list of Magical Folding Artist & Juggler, Michael Roy Baldridge's past appearances and is not in chronological order, but will give you an idea of his experience and range -- both as a stage performer and as an interactive, roving, table side, and close-up/atmosphere entertainer.
And check out the reviews and testimonials from Michael Roy's appearances. Click on the REVIEWS link below.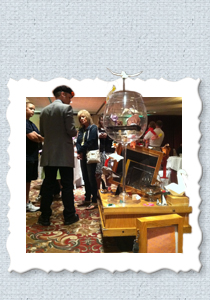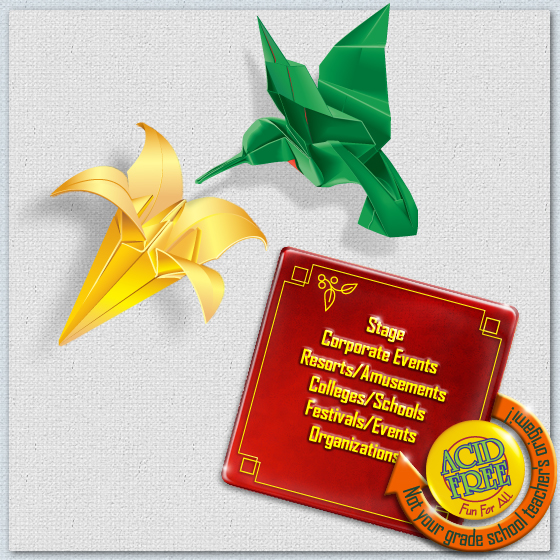 Solo Act
•
Variety Arts Center

Los Angeles, California
Lamb's Players Quimby Company
(puppet/variety show)
• Colleges & Universities
Southern, California & Arizona
Solo Act

•

Lamb's Players Theatre

National City, California
Classic Enchantment
(New Vaudeville Show) • A Variety of Venues Southern, California
Classic Enchantment

(New Vaudeville Show) • Forest Home
Forest Falls, California
Solo Act

•

The New Ice House

Pasadena, California
Solo Act

•

The Improv

Hollywood, California
Solo Act

•

Blueberry Hill Disco

Los Angeles, California
Solo Act • Old Number Seven Distillery Disco

Del Mar, California
Solo Act • His Place Pizza

Escondido, California
Solo Act

•

The Improv

Hollywood, California
Solo Act

•

Blueberry Hill Disco

Los Angeles, California
Solo Act • Old Number Seven Distillery Disco

Del Mar, California
Solo Act • His Place Pizza

Escondido, California
AFL-CIO Christmas Parties
• Several Locations
•
Northeast Ohio
Thirteenth & Fourteenth Annual Employers-Employee Appreciation Banquet

• Cooperative Office Education, Niles McKinley High School
Warren, Ohio

Society Bank Night at Blossom with Cleveland Orchestra
- Blossom Music Center

Cuyahoga Falls , Ohio
Lockheed Martin Employee Picnic
•
Wingfoot Lake

Akron, Ohio
Michigan Funeral Directors Association Presidential Banquet
•
Amway Grand Hotel

Grand Rapids, Michigan
Family Showcase Series

•

United States Air Force


92 Air Force Bases Continental USA

Boat Sport & RV Show

•
Grand Rapids, Michigan

Corporate Christmas Party Schaeffler Group

•

The Galaxy


Wadsworth, Ohio

Corporate Christmas Party Bendix

•

La Centre


Westlake, Ohio

Kalahari Resorts Manager's Retreat Reception
• Merry Go Round Musuem


Sandusky, Ohio




Real Estate One Manager's Retreat Reception
• The Westin Book Cadilac Hotel


Detroit, Michigan




The Market Path Fair Trade Gift Shop • Highland Square


Akron, Ohio



US Foods Employee Appreciation Event
Akron Zoo

Akron, Ohio
Corporate Picnic 2016


Purchase, New York
Company Carnival @ Cellular Technology Limited




Cellular Technology Limited


Shaker Heights, Ohio
---
Resorts/Amusements

page 1
---
---
Resorts/Amusements

page 2
---
Around the World in a Day at the Zoo 2008

• Toledo Zoo
Toledo, Ohio
Dream Night 2008

(for seriously ill children & their families) •


Toledo Zoo


Toledo, Ohio
Dream Night 2009

(for seriously ill children & their families) •


Toledo Zoo


Toledo, Ohio
Party for the Planet - Earthday Celebration 2013


Akron Zoo
Akron, Ohio
Party for the Planet - Earthday Celebration 2010


Akron Zoo
Akron, Ohio
---
Resorts/Amusements

page 3
---
Summer Program 2013 •
Bay Shore Campground
Andover, Ohio
Spring Alive - Fairy Tales, Fables & Flowers

Nairobi Events Pavilion
Toledo Zoo
Toledo, Ohio
Soar & Explore
Museum of Science
Toledo Zoo
Toledo, Ohio
Penguin Beach & Flamingo Key Opening Weekend
Nature's Neighborhood Toledo Zoo
Toledo, Ohio
EGGS, PAWS & CLAWS 2009 • Columbus Zoo
Powell, Ohio
---
Resorts/Amusements

page 4
---
---
Resorts/Amusements

page 5
---
---
Resorts/Amusements

page 6
---
Origami Workshops @ March Arts Day
Bovard Elementary School
Greensburg, PA
Assembly Programs
11 Saint Lawrence County Public Schools
St. Lawrence County, New York
Spring Flower Festival

La Paloma Theatre
Encinitas, California
Brookpark Home Days
Brookpark, Ohio
City Lights Craft Fair 2006
Garfield Heights, Ohio
City Lights Craft Fair 2007


Garfield Heights, Ohio
City Lights Craft Fair 2008

Garfield Heights, Ohio
Bar Mitzvah
Private Residence
Beachwood, Ohio

Bar Mitzvah

Private Residence
Twinlakes, Ohio
Christmas Show

Westwood Country Club
Rocky River, Ohio
"Hope for Measles" 2008 Fundraiser
First Christian Church of Stow


Stow, Ohio
"Hope for Measles" 2007 Fundraiser
First Christian Church of Stow
Stow, Ohio
New Song Festival
Hendersonville, Kentucky
Genesis V
Detroit, Michigan
Michael's 7th Year Birthday Party
Hudson, Ohio
Cheryl's 50th Year Birthday Party
Bedford, Ohio
Breakfast with Santa
Fairlawn Kiwanna's Community Center
Fairlawn, Ohio
Triple Birthday Party
North Jackson, OH
Grad & Going Away to College Party
West Lake, OH
Opening Celebration of Nassau Astronomical Station
Observatory Park
Montville, Ohio
Circus Theme Halloween Party 2016
Solon, Ohio
"Haunted Circus" Halloween Party 2016
Akron, Ohio
Faith & Family Festival 2017

Hoover Park @ Walsh University

North Canton, Ohio
Lions Clubs International
Fifth Annual District Convention
Boyne Falls, Michigan
Young Adult Weekend
- The Salvation Army
Saint Louis, Missouri
Family Life Conference
- The Salvation Army
New York, New York
Christmas Family Gathering Salvation Army
Concord Resort Hotel

Catskills, New York
National Convention Public Show
International Jugglers Association
Cleveland, Ohio
Billy Graham Crusade

Sacramento, California
Youth Specialties - National Youth Workers Convention
Dallas, Texas
Youth Specialties - National Youth Workers Convention
Chicago; Illinois
Youth Specialties - National Youth Workers Convention
Philadelphia, Pennsylvania
Youth Specialties - National Youth Workers Convention
Atlanta, Georgia
American Baptist Junior High Convention
Indianapolis, Indiana
American Baptist Junior High Convention
Bluffton, Indiana
American Baptist Senior High & College Convention
Bluffton, Indiana
Missionary Church Michigan District - Youth Convention
Grand Rapids, Michigan
Ardmore Baptist Church
Winston-Salem, North Carolina
Willow Creek Community Church
South Barrington, Illinois
Loundonville Public Library
Loudonville, Ohio
Savor the Flavor - A Taste in Strongsville

(Fund Raising Event of Rotary Club)
Holiday Inn
Strongsville, Ohio
First Annual Crepe Celebration Dinner & Wine Tasting

(Fund Raising Event of Rotary Club of Aurora)
Aurora, Ohio
Very Special Arts

Stifel Fine Arts Center

Wheeling, West Virginia
Youth Breakout Rally
- The Chapel

Akron, Ohio
Youth Rally
- Grace Bible Church

Pompton Plains, New Jersey
Valentines Day Banquet
Akron Christian Reformed Church
Akron, Ohio
Rally Day -
First United Methodist Church

Eaton Rapids, Michigan
Teen Event -
Signal Mountain Presbyterian Church
Signal Mountain, Tennessee
Family Concert
Victory Life Church
Stow, Ohio

Vacation Bible School Family Night
Maplewood Christian Church
Ravenna, Ohio
Stow Chapel • Spring Hill
Evart, Michigan
Nottingham Baptist Church
Euclid, Ohio
Camp Nathanael Anniversary Celebration
Emmalena, Kentucky
Jr High Camp
Camp Carl

Ravenna, Ohio
Lamp Light Church

Charlotte, North Carolina